What makes a banjo high end?
The term high end banjo can be taken differently depending on person purchasing it. For some it might mean $3,000.00 and for others it could mean $10,000 plus.
To start I would say high end comes into play when you get into a professional grade banjo with a quality tone ring and the craftsmanship that makes the tone of the banjo sound great, and also offers great playability. There is a lot to know about what makes a banjo sound like a high end instrument. The rim for instance is the heart of the banjo. You then take the great rim matched with a great tone ring, and then make sure that the neck, rim and tone ring all fit properly together. When they do, it creates the right vibration for a great sounding instrument.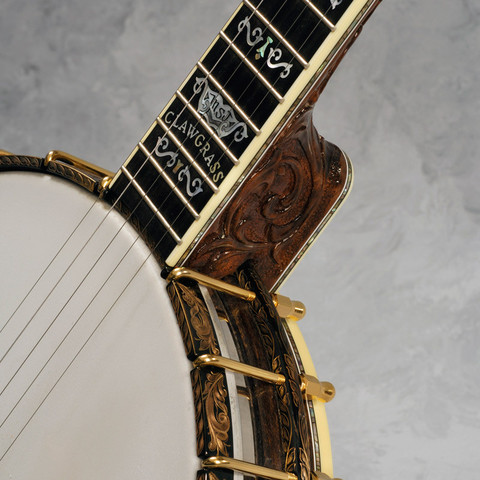 High end Deering models that we stock
The beginning of the professional grade high end banjo in the Deering Banjos lineup of instruments would be the Deering Sierra. This is a great sounding banjo that offers everything to create a "high end" sound without all the aesthetics of most costly instruments.
Deering also creates some of the most attractive banjos ever built. The Deering Calico for one is a beautiful flamed maple banjo with Honey amber stain. The GDL (Greg Deering Limited) is also very attractive with Burl Walnut resonator and Abalone trim on the neck and resonator. The Clawgrass Mark Johnson and the Ivanhoe both are incredibly over the top with engraving on all the metal parts and very elaborate neck carvings on the heel.
There are also many Deering models in between the banjos we have just mentioned, like the Saratoga Star and Legacy which are in the Tenbrooks series. And of course the Artist series that are built to the specs of great players like John Hartford, Tony Trischka, John McEuen, Terry Baucom and David Holt. Banjo.com stocks most all the high end Deering banjos in addition to all the beginner and intermediate models.
Pictured: Deering Gabriella inlay detailing